FIRA Sustainability - Netherlands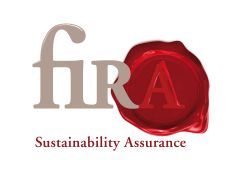 FIRA is an Assurance provider and verifies CSR performances of companies and organizations. CSR Reports may become part of and analyzed through the online platform. FIRA enables CSR Dialogue.

The FIRA Platform is an online register in which companies (suppliers) can display their CSR practices to clients (buyers). The FIRA Platform is closely aligned with international standards such as ISO 26000, ISO 20400, AA1000 and GRI.
FIRA Sustainability - Netherlands Offices
Postbus 85, 1620 AB Hoorn, The Netherlands
Postbus 85, 1620 AB Hoorn, The Netherlands