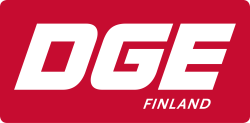 DGE Finland is a part of DGE Group, that provides environmental and sustainability consulting services across the Nordics and the Baltics. DGE Group was founded in Denmark in 1985, and now employs over 160 dedicated people from various specialties and backgrounds – among them engineers, geologists, chemists, environmental and laboratory technicians, constructional engineers and economists.
DGE Finland was born in 2019, when DGE Group entered into partnership with the Finnish LE-Consulting Oy (LEC), which was founded in 1989. LE-Consulting, a spin-off of Helsinki University of Technology, was specialized in legal, economic, and technical consulting in real estate and environmental projects and cases.
Today, DGE Finland aims to provide the Finnish market the same level and variety of expert consultancy DGE Group is known for in neighboring countries. In 2022 DGE Finland developed a new business strategy and decided to expand its sustainability services.
DGE - Finland Offices
Maistraatinportti 4 a – 5th floor, Boffice, 00240, Helsinki, Finland
Maistraatinportti 4 a – 5th floor, Boffice, 00240, Helsinki, Finland