Air quality regulations are complex and unique to each region and country. Inogen Alliance associates are experts in their individual countries with engineering and regulatory consultants that work with clients to meet air emissions requirements including permitting, reporting, and more. Our emissions consultants can provide services to measure ambient air and atmospheric emissions, document air emissions impacts, develop solutions to control fugitive emissions within workplaces, and provide support during the design phase launch and standard operating conditions. Individual country regulatory knowledge and engineering services also allow the emissions consultants to develop global strategies for clients through collaboration for odor control, training, and systems evaluation. 
Have a question or need consultation in regards to Air Emissions? Contact a consultant below.
Balancing Community and Industry Interests
Managing of emissions from resource recovery facilities is emerging as a growth area in Australia. The increasing costs for landfill disposal is attracting investment in organics recovery such as composting, and material recovery including concrete recycling. At the same time our increasing population is creating demand for growth of residential use at the fringe of existing urban areas where many of these facilities are located, introducing a potential amenity risk due to emissions of odorous air from composting facilities and dust from material recovery facilities. We assisted international consortia of land developers and multinational waste management by providing expert advice regarding best practice controls to avoid conflict between different land uses. We continue to help decision makers of today balance the interests of industry and community by allowing us all to make the most of recyclable resources without causing harm to health and well-being into the future.

Nathan Williams
Peter J. Ramsay & Associates, Australia
Global Strategies. Local Consulting.
Learn more about Air Emissions through Inogen Alliance.
We help our clients navigate the complex and ever-changing regulatory environment and bring a wide variety of innovative technologies to address air emissions. All of these services can be accessed through a single point of contact. If you are in need of support to evaluate your regulatory compliance or are looking to continually improve and reduce emissions, we have global consultants that can support you. 
Services include:
Air emissions to the environment
Measurement and worker exposure analysis to indoor air quality
2D and 3D modeling for both air and odor
Regulatory compliance services and assessments
Permit determination, application and renewals
Odor Management Plans
Solvent Management plans
Continuous Monitoring technology
Key results:
Compliance with region/country-specific and/or permit specific requirements
Analytical data to validate compliance status, fulfill regulatory requirements, and support innovative engineering solutions
Global plans that are crafted to address region/country-specific regulatory compliance
Risk management of a costly regulatory burden
Global Environmental Policy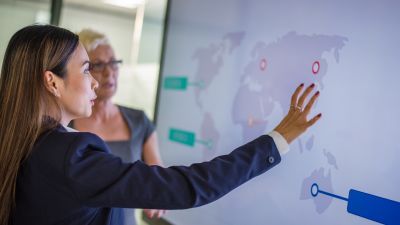 Through setting a template for an improved waste management system and training of the global team on the client's needs, we were able to provide country-specific requirements, legal registers, and tools for self inspection and other tools needed for the country EHS managers to implement the policy.
Client Benefits
Consistent Formatted Procedure Globally
Confidence on the incorporation of appropriate EHS regulations related to operations.
Tools as part of each procedure to allow individual sites to implement the country-specific procedures 
Environmental Impacts of Sustainable Waste Management
Reduces greenhouse gas emissions

Promotes energy efficiency

Reduces solid waste production