Construction projects inherently bring risk to an organization. That risk can be in many forms, but one of the most concerning risks is that which impacts the safety of construction workers and the surrounding community. Unchecked risks on a construction site can result in deadly consequences to not only the workers at the site, but also to the neighboring properties and community.
Controlling risks during a construction project begins with the selection of the contractors and extends to oversight during the project and a safe transfer at the end of the project. Our construction safety experts understand the construction life cycle and can assist companies with solutions and management of these projects around the globe.
Have a question or need consultation in regards to Construction Safety Support and Solutions? Contact a consultant below.
Services in Emerging Markets
The power of Inogen Alliance globally has opened up opportunities to provide these services in emerging markets. The vast resource of experts in the field allow the organization to provide viable solution to clients.

Sabine Ramaker
Construction Safety Experts, Accessible to You.
Learn more about Construction Safety Support through Inogen Alliance.
Construction Safety Services Include:
Assessment of Need
Contractor Program Development and Implementation
Contractor Pre-Qualification Program
On-site H&S Supervision/Inspection
Permit to Work Implementation and Development
Contractor Management Training
Multi-Employer Awareness Training
Behavior-Based Safety
Fire Protection Strategies
Key Results:
Consistent selection and oversight of contractors to minimize risks
Limiting liability during major construction projects
Data Center Construction Safety in Singapore and Malaysia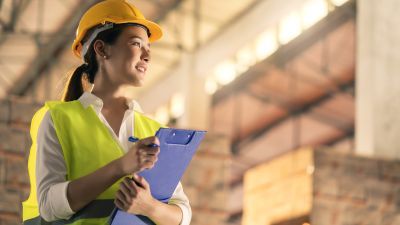 EHS Talent On-Demand is a cost-effective and alternative solution for organizations seeking experienced environmental professionals to develop environment, health & safety (EHS) policies. 
ESC's regional presence made it easy to meet the clients' requirement and deploy EHS professionals throughout the whole construction phase of the data centers. Through EHS Talent Resourcing, a Senior EHS Consultant and Specialist were deployed to provide compliance support and provide in-country EHS assurance support in accordance with the client's EHS policies and management system. 
Client Benefits
Through our holistic approach, the client was able to overcome EHS construction challenges and achieved Workplace Safety and Health recognition having met EHS standards thanks to our local knowledge of the regulations, technical expertise and project management. 
Markets Serviced
Inogen Alliance has serviced many markets in the construction industry through the years, including:
Data Centers

Universities and other higher education institutions

Site construction for general industries, such as solar and pharmaceuticals

Hotels and multiplex residentials
Construction Safety Support