Ergonomics: the science of designing the workplace to the worker and helping people more efficiently and comfortably conduct work. That definition translates globally and no matter where on the globe you conduct work, the study of workplace ergonomics can result in improved worker health and productivity. 
Inogen Alliance helps companies around the globe address this issue in a universal way that allows for one consistent corporate program. We consider local workplace ergonomic regulations, cultural nuances related to ergonomic concerns, and a company's desire to provide a best-in-class service to their employees to help ensure comfort in office, industrial and home-based work environments.
We leverage online tools, remote and in-person assessments, scientifically acceptable methods for evaluation and various training formats to help ensure the most ergonomically-correct workstations are available to your employees.
Have a question or need consultation in regards to Ergonomics? Contact a consultant below.
Work-From-Home Ergonomics Globally
Many offices are currently closed or operating at reduced capacity, and therefore employees may be temporarily working from home. We are able to provide low cost, behavioural solutions to improving home workstation set ups, to ensure that employees stay comfortable throughout their time working from home. Employers' responsibilities can differ from country to country, however many of our clients operate on a global scale. Inogen Alliance in-country ergonomics specialists are able to provide advice which is tailored to local requirements, whilst ensuring a globally consistent programme of support.

Jess Beckwith
Comfortable Workplace. Improved Productivity and Well-being.
Learn more about Workplace Ergonomics through Inogen Alliance.
Services include:
Design Specification & Support
Ergonomics Training 
Industrial Ergonomic Assessments/Studies
Office Ergonomic Assessments/Studies
Product / Equipment Review
Product Selection & Support
Key Results:
Safer workplace safety
Consistent global service delivery 
Regulatory compliance
"This global technology company has been a fascinating client to work for. I especially enjoy the variety of work between the corporate and retail sites, with their contrasting ergonomic challenges and solutions. Typical ergo advice I provide for them include workstation set up, manual handling, shop floor activities, undertaking product repairs, and use of their devices. Our Inogen Alliance associate Antea Group has supported in sharing best practice and learnings from their longstanding relationship with this client." - Jess Beckwith, Delta Simons, UK
Retail and Corporate Ergonomic Support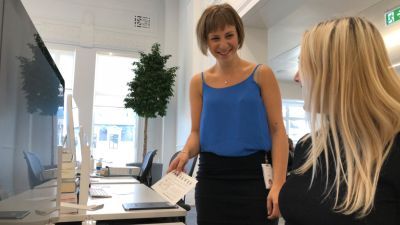 The client instructed Delta-Simons to implement an ergonomics support programme for employees in the UK, for both retail and office employees. The ergonomics programme was developed to include:
Reactive support (UK and EMEIA):
Review of online training undertaken by employees
Ergonomic assessments in-person or by phone to identify measures to improve comfort; tailoring advice to the nature and location of the work being undertaken
Support with procurement of ergonomic furniture
Flexible support programme to ensure employees are supported in a timely manner
Proactive support (UK):
Programme developed to raise awareness of good ergonomic habits, to ensure discomfort is prevented
Workstation ergonomic sessions to ensure corporate employees have a good set up
Store visits to deliver briefing sessions with retail employees
Virtual Q&A sessions for Retail employees 
Disseminating information about the ergonomics support programme to ensure employees understand the support that's available to them
Client Benefits
Combining proactive and reactive approaches has provided the employees with a full package of support. The proactive approach has resulted in a better understanding of the challenges employees face in their workplace, and changes they can make to reduce the risk factors or injury occurring.
Thoroughly understanding the activities of the business has been crucial in being able to disseminate relevant and useful guidance and advice for employees. Integrating our way of working with the client's existing processes and standards has resulted in a synergistic arrangement, whereby efficiencies can be identified and implemented. This has ensured consistency in service provision across all activities and locations.
Building good working relationships with key members of the organisation has ensured the ergonomics programme is thoroughly embedded within the company's culture and practices and implementing a proactive supportive approach supports employees in being comfortable and safe whilst at work. We know that comfortable employees are more productive and efficient which can only be beneficial to all.