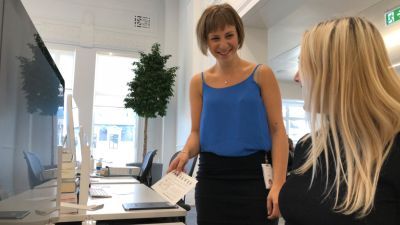 Retail and Corporate Ergonomic Support
Challenge
The client required support in providing ergonomics support for corporate and retail employees experiencing discomfort. Ergonomics programmes were in place in other countries via Inogen Associates, however there was little ergonomics support available for escalated cases within the UK and EMEIA. 
Inogen Solution
The client instructed Delta-Simons to implement an ergonomics support programme for employees in the UK, for both retail and office employees. The ergonomics programme was developed to include:
Reactive support (UK and EMEIA):
Review of online training undertaken by employees
Ergonomic assessments in-person or by phone to identify measures to improve comfort; tailoring advice to the nature and location of the work being undertaken
Support with procurement of ergonomic furniture
Flexible support programme to ensure employees are supported in a timely manner
Proactive support (UK):
Programme developed to raise awareness of good ergonomic habits, to ensure discomfort is prevented
Workstation ergonomic sessions to ensure corporate employees have a good set up
Store visits to deliver briefing sessions with retail employees
Virtual Q&A sessions for Retail employees 
Disseminating information about the ergonomics support programme to ensure employees understand the support that's available to them
Client Benefits
Combining proactive and reactive approaches has provided the employees with a full package of support. The proactive approach has resulted in a better understanding of the challenges employees face in their workplace, and changes they can make to reduce the risk factors or injury occurring.
Thoroughly understanding the activities of the business has been crucial in being able to disseminate relevant and useful guidance and advice for employees. Integrating our way of working with the client's existing processes and standards has resulted in a synergistic arrangement, whereby efficiencies can be identified and implemented. This has ensured consistency in service provision across all activities and locations.
Building good working relationships with key members of the organisation has ensured the ergonomics programme is thoroughly embedded within the company's culture and practices and implementing a proactive supportive approach supports employees in being comfortable and safe whilst at work. We know that comfortable employees are more productive and efficient which can only be beneficial to all.
"This global technology company has been a fascinating client to work for. I especially enjoy the variety of work between the corporate and retail sites, with their contrasting ergonomic challenges and solutions. Typical ergo advice I provide for them include workstation set up, manual handling, shop floor activities, undertaking product repairs, and use of their devices. Our Inogen Alliance associate Antea Group has supported in sharing best practice and learnings from their longstanding relationship with this client." - Jess Beckwith, Delta Simons, UK
About the Client
Global technology corporation