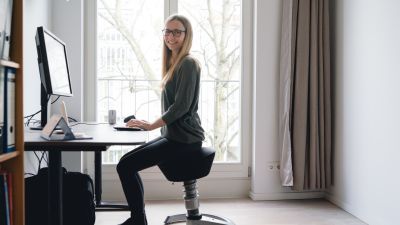 Ergonomics Office Equipment Assessment
Challenge
The client's EHS Manager wanted to go above and beyond a standard approach to Display Screen Equipment (DSE) assessments (fulfilling legislative duties) and ensure that as many UK employees as possible were offered an in-person assessment.
Inogen Solution
Four consultants undertook over 1100 DSE assessments by visiting sites in-person and approaching each employee at their workstation, to offer an assessment. The assessment covered the employee's full workstation set up (chair, desk, monitors, keyboard, mouse) and also included their working environment (office lighting, temperature etc). Good ergonomic habits were also recommended, including the importance of good posture and regular movement. Approximately 8 DSE assessments were undertaken by each consultant each day. A DSE report was provided for each employee using the client's template, outlining the adjustments made during the assessment, and recommended equipment provision. The client provided an equipment list which the consultants used to provide appropriate recommendations. 
In 2020, consultants have provided remote support for employees who are usually office-based, but are currently working from home. The support has focused on low-cost solutions such as behavior change, and using common household items such as cushions and boxes to improve workstation set up. 
Client Benefits
Every employee in the office at the time of the visit was offered an assessment. Results of the assessments were analyzed and trends were established. For example, 14% of the employees assessed were working from home as much as, or more than they were working in the office. The client was previously unaware of this, but was pleased it was brought to their attention so they could ensure that these employees could receive the home assessments they required. The consultants then supported with the completion of some of these assessments.  In addition, some employees requested specific furniture without having a medical requirement. The consultants were able to engage with the employees and explain the benefits of good ergonomic habits, which could benefit the employees more than equipment provision. 
'I am very pleased with the DSE assessment programme. The operational team continue to work hard, maintain good professional standards on site and provide the service as requested. In particular the team are very good at providing feedback on each office visited throughout the program.' - Client
"I found this project really interesting because as a team, we were able to identify meaningful trends due to the large number of DSE assessments completed. Especially of interest was the number of employees who were working from home part of the time, but had not gone through the formal channels to ensure their workstation set up at home was correct. This is especially relevant at the moment because staff are currently working from home and therefore good workstation set up is crucial." - Jess Beckwith, Delta Simson, UK
About the Client
Global technology corporation