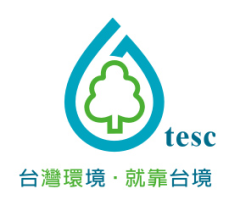 Taiwan Environment Scientific Corporation (TESC) was founded in 2003, now capitalized with $10.667 million USD.  Our long history of environmental services includes soil & groundwater investigation and remediation, water and wastewater treatment,  sludge dryer systems and EHS.  We provide innovative, cost effective and satisfactory solutions to well known customers like Chinese Petroleum Corporation(CPC), Coca-Cola, Taiwan Power Company(TPC), Taiwan Semiconductor Manufacturing Company(TSMC) , United Microelectronics Corporation(UMC), and Taiwan Water Corporation(TWC). 
In our vision, we look forward to be a technology-centric company, to innovate a "one-stop"" environmental protection business model, to provide integrated all-directional environmental protection services, and to become the leader of Taiwan's environmental protection industry.
 
TESC - Taiwan Offices
3F. No.82 Quyun Rd. Banqiao Dist.
3F. No.82 Quyun Rd. Banqiao Dist.