Effective Project Execution in a Challenging Environment During a Challenging Time
Randall D. Shaw, Ph. D. Partner, Redlog
February 16, 2021

How can we make a project in one of the most challenging countries where Inogen Alliance provides services – Afghanistan – even more challenging? Simple, execute the project during COVID-19 lockdown times! In this article we focus on challenges associated with COVID-19 restrictions and what we did to complete a successful project for our client.
Inogen Alliance Project Team: HPC International (France) and Redlog (UAE)
Client: NATO Support and Procurement Agency (NSPA). NSPA provides procurement, logistics, operational and systems support and services to NATO and the NSPA Planning and Liaison Team (NPLT) supports Allied Command Operations (ACO) with planning and liaison support as well as project support when tasked.
Project: Conduct environmental closeout studies at five NATO Camps across the Resolute Support mission area, including Kandahar Airfield, Herat, Mazar-e-Sharif, Kabul International Airport (HKIA) and Resolute Support Headquarters (RS HQ). The environmental studies were conducted as per NATO environmental protection standards with the focus of the studies to assess potential environmental liabilities and associated soil remediation requirements / costs within the five camps, all focused on those areas of NATO infrastructure. Approximately 200 surface and sub-surface soil samples were collected and sent to an ISO accredited lab in France for analysis.
Coring One of More than 200 Boreholes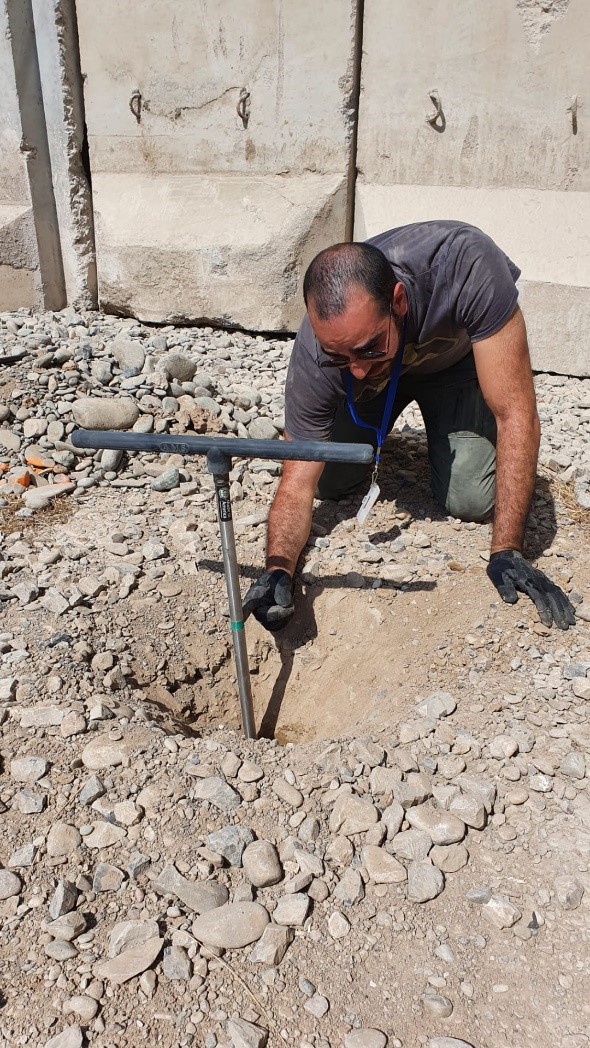 COVID-19 Challenges: Actually, carrying out this project was not a big deal, as long as the consultants sent to Afghanistan enjoy strict quarantine restrictions, long flights, getting poked up the nose multiple times for PCR tests,  take-out food, problems attempting to ship samples abroad, limited internet and mobile coverage, etc.  But for the rest of us, let me highlight a few of these challenges in more detail.
Pre-Entry Quarantine – The first and by no means the last COVID-19 challenge was the mandatory requirement for all military, staff and contractors arriving to Resolute Support to undergo a strict 14-day quarantine at a "special" quarantine facility prior to boarding a flight to Afghanistan.  Two Redlog consultants spent 14 days within the confines of their "4-star" hotel in Dubai, unable to open the door other than to grab food left outside and with no access to fitness, swimming pools, restaurants, etc. 
PCR Testing – Nasal swab testing was done a dozen times for each person involved in the project.  Negative PCR tests were required before and during quarantine, before boarding the flight to Kabul, before being allowed on NATO aircraft for transport between Bases, before boarding the return flight to Dubai, and upon return to Dubai. 
Logistics – Due to COVID-19 issues, the number of flights between Dubai and Afghanistan was reduced from 10-20 a day when I was working there a decade ago, to about once a week.  Flight times went from about 2.5 hours for a direct flight from Kabul to Dubai, to around 12 hours with multiple stops each way.  Prices went from a few hundred dollars per flight to a few thousand dollars per flight (one way!).  Flights had to be booked well in advance and any delay in the project would have meant that project staff would be stuck in Afghanistan for several weeks longer than expected.
Base Restrictions – COVID-19 restrictions prevented local suppliers and support staff from entering the Bases, meaning limited cleaning and other services.  At most Bases, food services were restricted to take-out service.
Inogen Alliance Solutions:  While we have carried out many projects in Iraq and Afghanistan, successfully completing such a project during COVID-19 times adds another level of complexity to these challenging environments. But, successful project execution is actually no different than any other Inogen Alliance project, and is based on:
Great Clients –  Our client NPLT and in particular their team leader, Mr. Lloyd Chubbs, and the contacts at the five NATO Bases were knowledgeable, flexible, reasonable and a pleasure to work with.  This is important for every project, but even more so when the client and our project team are together 24/7 for more than a month!
Great Consultants –  Finding staff willing to travel and execute a project in Afghanistan is not easy at the best of times, and even more of a challenge now.   Gavin and Ali carried out this work with no hesitation, with a positive attitude, and as professionals.  
Great Teamwork –  HPC and Redlog have a long-standing and excellent working relationship.  We worked together in a flexible but professional manner, we managed and carried out our responsibilities accordingly, and maintained close communication throughout the project. These long-standing relationships and trust between Associate companies within Inogen Alliance is what sets us apart and enables us to succeed.
Project Outcome:  This was best said by Mr. Lloyd Chubbs, NPLT:
"In the end, the project was a success and will provide valuable information for NATO enabling the HQs to make informed decisions related to environmental protection in the five camps and to demonstrate due diligence."
Special Thanks:  Gavin Cameron (Left) and Al Attar (Centre) from Redlog's Dubai office went above and beyond the call of duty to carry out this project.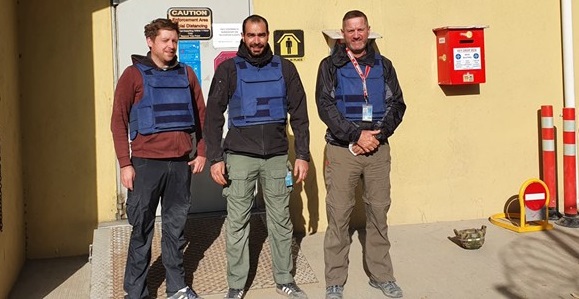 Mr. Lloyd Chubbs, NPLT was the client's Project Manager and accompanied Gavin and Ali to all sites and facilitated the sampling effort at each Base. 
Thomas Grauf managed the project for HPC International, reviewed the reports and kept us all on track.
This is just one of many examples on how Inogen Alliance Associates come together to support multi-national clients. Above all we trust each other and have formed strong partnerships to be able to leverage each other's strengths and knowledge across all our services and global locations. Together we are one global team providing the best expertise to our clients.