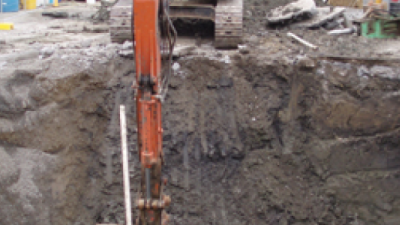 Environmental Due Diligence in Australia
Challenge
Inogen Alliance was appointed through its Associate PJRA by Amcor Australasia (Amcor) to undertake environmental due diligence at one of Amcor's printing plants for flexible packaging in South East Australia.
Inogen Solution
Arising from the due diligence investigations, our Inogen Alliance Associate PRJA was engaged by Amcor in early 2009 to remediate hydrocarbon impacted soil and groundwater that had been identified in late 2008 at Amcor's flexible printing plant. The scope included a clean-up of the contamination within the three-month sale period, with minimal disruption to production at the operating facility and disturbance to the workers and the community.
A feasibility study of remedial options was undertaken to determine the most effective and environmentally sustainable solution for the client. Challenges included undertaking excavation within a dangerous goods storage area and adjacent to relatively new underground solvent tanks which needed to be preserved, as well as the handling of highly odorous soil contaminated with toluene.
Client Benefits
The soil remediation was designed and completed within the tight three month timeframe and within budget, and the groundwater pollution was cleaned up within a further six months. Site remediation was achieved within 12 months of the first preliminary investigations on the site.
The remedial activities were managed in close co-operation with Amcor so that the relatively new underground solvent tanks were preserved in-place rather than having to be removed which reduced overall costs for Amcor. Through smart scheduling and dangerous goods management there were no odour impacts or disruption to the operating facility or the community. The remedial works have ensured a very successful outcome for Amcor on a site which had a significant environmental liability.
"Amcor is very pleased with the quality advice and excellent outcomes for our company achieved by Inogen Associate Peter J Ramsay & Associates in their due diligence assessment and remediation programs at our plant. This was a particularly challenging project with short timeframes and logistical/environmental complexities that progressed seamlessly."
John Newton,
Group Manager Sustainability & Environment, Amcor Australasia.