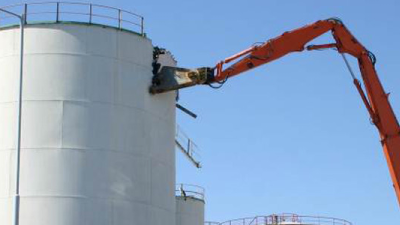 HSSE Oversight in South Africa
Challenge
Ensure proper environment, health, safety and security oversight for final site decommissioning.
Inogen Solution
A global oil and gas company required final decommissioning at a former terminal and blending facility that had been idle for almost a decade. The 2.5acre site, located in Durban, South Africa, required the removal of all above and below ground structures, underground utilities, process equipment, buildings, concrete slabs and foundations.
The objective of the project was to demolish the site to safety requirements agreed upon by the province, port authority and client so that the client could completely exit the site.
Several factors contributed to the complexity of the project including site location immediately adjacent to neighbours with high pressure LNG lines, round the clock high truck traffic, incomplete site records and historical information, asbestos containing materials and petroleum waste, high risk permitted safety activity, workforce from multiple countries speaking different native languages and continuous coordination and interactions with port authority.
Client Benefits
Inogen Alliance BP JV was contracted to perform the final site decommissioning and removal of all remaining assets from former site operations. Primary responsibilities included coordination and planning of all site work with primary demolition contractor and HSSE supervision of all demolition activities.
Specific activities included preparation of safety documentation, industrial hygiene and site security planning, workforce training, permitting support for hot work, working at heights and ground disturbance, waste management tracking and reporting, air monitoring and stakeholder engagement.
The site was successfully cleared of all assets, including:
6 underground storage tanks and related piping
A boiler house, metal fabricating plant, blending plant, additive warehouse, laboratory, office building and service shop
1250 cubic meters of Asbestos containing material removed
1010 metric tons of scrap metal
3200 cubic meters of oil impacted soil removed
Over 35,000 man hours worked
All demolition work was completed safely within a 4-month period and the site was returned to the original land owner in a state that is ready for redevelopment.