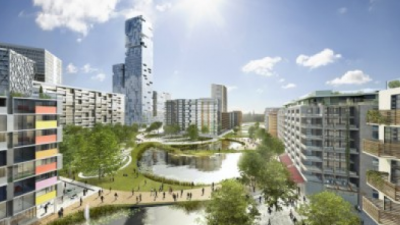 Strategic Contaminated Land Consultancy
Challenge
Stratford City is a £4 billion retail-led urban regeneration project covering 73 hectares (180 acres) of the former Stratford rail lands surrounding the Stratford International railway station for the Channel Tunnel Rail Link (CTRL). The site forms a significant part of the wider Olympic 2012 East London regeneration area. The site was heavily contaminated with oils and diesel from the former railway use as well as contamination from a former gas works.
Inogen Alliance Associate  Delta-Simons was appointed as the Strategic Contaminated Land Consultant on the projects.
Inogen Solution
Inogen Alliance through Delta-Simons has provided additional support in waste management exemptions, waste classification and 'WAC' testing, determining the suitability of site materials for re-use within the development, overseeing asbestos removal, the installation and subsequent monitoring of boreholes, liaison with regulatory bodies and  tender reviews.
Client Benefits
Works undertaken by the Inogen Associate have currently included the analysis of over 500 soils and 150 groundwater samples, the introduction of a unique solution to Japanese Knotweed, resulting the re-use of 50,000 m³ of material on-Site, and a bespoke Waste Management Strategy which has successfully diverted 125,000 m³ of hazardous waste from landfill and resulted in significant cost savings of approximately £40 million compared to original estimates.