Digitisation in Construction Site Safety

QEHS Software solutions are becoming an increasingly important addition to the arsenal of services offered by environmental consultants. In our role as advisor, we are pushing our clients to implement new systems and procedures to manage their QEHS responsibilities, it therefore makes perfect sense to also offer software solutions that can help them better manage these processes.  
Since 2016, ESC has been working in a joint partnership with French software company BlueKanGo (BKG) to bring QEHS software solutions to our customers throughout Asia. With BKG's versatile platform and range of customisable 'Blueapps', we can serve clients from all number of industries and tailor systems that fit their needs perfectly.
Client Name
Boskalis Penta-Ocean Joint Venture
Project
Pulau Tekong Land Reclamation (Polder) Project commissioned by the Housing Development Board of Singapore at a cost of SGD1.2 Billion for the construction a 10km dyke system to reclaim 810ha area of land from the sea.
Deliverables
Cloud based customised Site Safety Platform to manage critical safety processes on site with modules for Safety Hazard Observation Card, HSE Inspection and electronic Permit to work, accessible via smartphone and tablets and with data analysis functions, customisable user access rights and offline mode.
Construction Site Safety Platform
Drawing on a wealth of internal EHS and construction site safety expertise, we have recently developed a number of unique site safety modules within the BKG platform which construction companies can use to digitise their permit to work process, identify site hazards, track site training needs and report incidents. The construction industry in Singapore has been relatively slow in the uptake of digital technologies, however, with changing client expectations, the old guard being replaced by tech savvy workers and a sustained push from government, in the form of grants and incentives for the adoption of digital technologies, the winds of change are beginning to blow and our platforms are gaining traction in the region.
Penta-Ocean Boskalis Joint Venture
One of the BKG team's stand-out projects this year was with Penta-Ocean Construction - a major Japanese construction company delivering large-scale projects in marine civil engineering, land civil engineering and building construction works worldwide. As part of their 1.2 billion SGD Tekong Polder Joint Venture construction project with Boskalis in Singapore and a move towards the digitisation of construction site processes, they engaged us to implement a system of customised modules for permit to work, safety hazard observation cards, HSE inspection and incident management reporting.
Our customised permit to work module can be accessed by site managers via desktop and in the field via phones and tablets.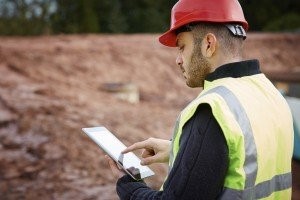 Digitalisation of the permit process offers many benefits  for construction companies. For one, contractors and subcontractors can easily apply for permits at the push of  a button via their smartphones and tablets and can be guided by the system through the whole application process, significantly reducing the chance of errors in      the application. Moreover, with the addition of mandatory fields, timestamping and records presented in an easy  to monitor table, visibility and accountability of the permit to work process has been greatly enhanced.
No more chasing signatures with a digitised permit to work process
As well as improving the efficiency of the permit to work process, the system also allows upper management to analyse data captured in the safety hazard observation cards,safety inspections and incident management modules which they can view in statistic tables and graphs and identify key trends and patterns in the behaviour of site users.   
The Future
With a concerted effort from the Economic Development Board, Infocomm Media Development Agency and numerous other government bodies, Singapore is leading the way globally in the realisation of the 'Smart City' ideals and Industry 4.0 readiness. Locally, construction companies are finally waking up to the benefits of implementing digital Site Safety platforms and in highly competitive industries like Construction, where just one accident can lead to significant reputational and monetary losses and project managers are in a constant battle with tight deadlines, the adoption of digital technologies is becoming ever more necessary.
''As the group HSSE Manager, I can login to the BKG system and there on the main dashboard I can get a big picture overview of the PTW system and review real-time statistics relating to safety hazard observation cards and site safety inspections at the Tekong Polder Project.
Over the life of the project, a range of useful data is captured within BKG and from this we can identify      trends and patterns, we can use these to take actions to improve health and safety at the site and across the group as a whole.''
   Colin Liu - Group HSSE Manager Penta-Ocean
More information:
Andrew Young
andrew [at] envirosc [dot] com