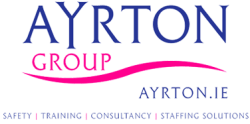 Ayrton Group is Ireland's leading Safety, Training, Consultancy & Staffing Solutions organisation, providing services to all sectors of Irish and European industry.
Founded in 1993, Ayrton Group currently employ in excess of 150 staff & associates within our team, utilising a pool of highly specialised professionals to suit specific clients' requirements.  Our team of ambitious and passionate professionals provide a comprehensive suite of resources to responsible businesses who embrace the need to make safety, health & welfare a top priority, ensuring not just legislative compliance and reductions in accidents/ ill health but real, measurable improvements in productivity, quality and revenue growth.
Everything we do in Ayrton Group is underpinned not just by our unrivalled experience and expertise but also by our desire to add real value to our clients' businesses. We are Risk Management people, We are Safety people, We are people who take what we do very seriously.
Ayrton Group is an ISO 9001:2015, ISO 14001:2015 & ISO 45001:2018 certified organisation, as well as affiliated with IOSH, IPAF, PHECC, QQI to name but a few.
Our business model and philosophy are simple- "Regardless of what service we provide, we strive to provide our clients with the best professionals available at a competitive price."
For decision-makers, our expert team works with national and international clients to offer a full range of business solutions including workplace and facility audits, site inspections, fire safety audits, risk assessments, staffing solutions and more.
Ayrton Group - Ireland Offices
Unit 2, Airton Road Business Park, Tallaght, Dublin 24, Ireland
Unit 2, Airton Road Business Park, Tallaght, Dublin 24, Ireland
The Enterprise Centre, Newmarket, Co. Cork, Ireland
The Enterprise Centre, Newmarket, Co. Cork, Ireland