Top 5 Benefits of Green Building
Galia Shtang, Head of Sustainability at Environmental Sustainable Development (ESD) Israel
August 17, 2022

What are the top benefits of Green Building? Advantages include:
Environmental advantages
Cost efficiency and economic benefits
Health benefits
Energy saving and energy efficiency
Improving air quality
What is Green Building?
Buildings and their users impact the environment during their entire life cycle from construction through operation to demolition. They exploit natural resources, consume energy and water, and produce waste. A green building is a building that reduces or eliminates negative impacts that buildings may have on the environment and may also create positive impacts. Green buildings preserve precious natural resources and improve our quality of life.
Going green does not entail a compromise of your current lifestyle or comfort. The advantages of green building extends far beyond finances and the ecosystem; it benefits people on a social level. People are healthier and enjoy an improved quality of life. Employees are more productive as they work in a cleaner and better working environment. This leads to a better economy. Going green is not only the "in-thing", it is the responsible thing.
What can make a building a Green Building?
While designing a Green Building, the design team should take into consideration the environment and the quality of life of occupants in construction and operation. There are a number of features which can make a building 'green'. These include: 
Efficient use of energy, water and other resources

Use of renewable energy, such as solar energy

Pollution and waste reduction measures, like re-use and recycling

Good indoor environmental air quality

Use of materials that are non-toxic, ethical and sustainable

A design that enables adaptation to a changing environment
Any building can be a green building, whether it's a home, an office, a school, a hospital, a community center or even a road, a pipeline or any other type of structure, provided it includes features listed above.
Benefits of Green Building
The built environment has a vast impact on the natural environment, human health, and the economy.
In the United States, buildings account for 39 percent of total energy use, 12 percent of the total water consumption, 68 percent of total electricity consumption and 38 percent of the carbon dioxide emissions (USA Environmental Protection Agency, 2018)
By adopting green building strategies, we can maximize both economic and environmental performance. Green construction methods can be integrated into buildings at any stage, from sustainable design and construction, to renovation and deconstruction. However, the most significant benefits can be obtained if the design and construction team takes an integrated approach from the earliest stages of a building project. Potential benefits of green building can include environmental, cost efficiency and economics, and health benefits, as a way of: :
1. Environmental 

advantages of building green
This is the most important benefit of Green Building. It positively influences our climate and overall ecosystem by reducing water use and energy sources that pollute our environment, such as coal and carbon dioxide discharged into the atmosphere. Green building not only decreases water waste, but may also contribute to enrich water reserves, preserves natural resources, defends biodiversity and enhances air and water quality. Green building also reduces your carbon footprint by producing less waste and decreasing the amount of toxic gases set free into the air. In this way, buildings may contribute positively to saving our environment and slowing the pace of climate change.
2. Cost efficiency and economic benefits
Saving the environment also saves you money, it's a win-win situation. It provides you with several economic and cost-effective benefits. These include decreased operating costs, enhanced occupant efficiency and savings on tenant utility bills. Moreover, it enhances your return on assets and profits due to your savings in operating costs. Lastly properties that are green built, require lower maintenance costs as they are built from sustainable components which in turn adds value to the property.
3. Health benefits
Going green means building away bad toxins and having the ability to breathe in fresh, clean air. Having a good indoor environment protects the tenant's health and enhances their quality of life by avoiding serious illnesses induced by the inhalation of toxic substances. An improved indoor quality not only safeguards your life, but it can also strengthen employee productivity. Employees working in clean and green built properties tend to have better concentration and focus capabilities, improving their work performance.
4. Energy saving & energy efficiency
Achieving sustainable and energy-efficient buildings is one of the challenges that we must face in the near future.
How do we achieve energy saving & efficiency?
1. Thermal enclosure insulation systems are very effective, as they allow buildings to be more sustainable therefore efficient.
2. Passive buildings reduce their consumption to a minimum: efficient air conditioning systems and appliances, natural air and light orientation of the building, and vegetation on roofs or facades to regulate the temperature of the buildings.
5. Improving air quality (inside and outside the house)
Optimizing energy consumption by providing adequate comfort and reducing environmental impact is essential to achieve cities with cleaner air AND Sustainable neighborhoods and green building. Air pollution is one of the worst worldwide problems.
There are many pollutants that are major factors in disease in humans. Climate change resulting from environmental pollution affects the geographical distribution of many infectious diseases, as do natural disasters.
The only way to tackle this problem is through public awareness coupled with a multidisciplinary approach by scientific experts; national and international organizations must address the emergence of this threat and propose sustainable solutions.
Green Building is only growing
An increasing number of authorities, organizations and institutions are working on raising consciousness about "Green Building". It is increasingly governed and driven by standards, such as the Leadership in Energy and Environmental Design (LEED), Building Research Establishment Environmental Assessment Method (BREEAM) and many other international and local codes.
ESD-Ltd is an Israeli consulting firm who spends its best efforts to leverage the Greening of the intensively growing Israeli building market. In 10 years of activity we accompanied around 600 projects. Through the Inogen Alliance network of international EHS companies Green Building practices through our sustainability consulting services are available globally to multi-national clients. Below is a case study from one of our many Green Building projects.
Case study - Shaharut sustainable achievements
The Shaharut Resort comprises about sixty suites and villas along with a main building housing a restaurant and spa, and a small camel farm. In total it occupyies an area of approximately 46 acres (18 hectares).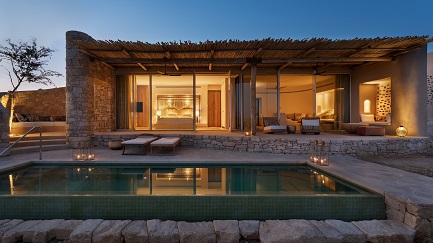 Situated in a fragile ecosystem as the Negev Desert in the south region of Israel, the owner of the Shaharut project and the hotel operator – the Thai luxury hotel company 'Sixth Senses', wanted to assure that they minimize any damage to the hotel's environment during construction and operation. To do so they chose to pursue an accreditation within the International LEED Standard work frame.
LEED (Leadership in Energy and Environmental Design) is a voluntary standard for the design, construction and operation of green buildings. LEED rating system refers to various aspects of sustainability and environmental impact reduction related to buildings - energy saving, recycling and utilization of resources, health and user comfort. The standard is composed of mandatory requirements and voluntary clauses for which a project can earn points. Accordingly, the project final score is calculated as  a degree of performance that grants the project its rating level. Rating levels vary from "Certified" to "Platinum" and are recognized as a sustainability quality mark worldwide.
The architecture of the Shaharut hotel has been designed to integrate with the surrounding desert topography and to preserve the natural terrain. Throughout construction the site has been covered in order to protect the natural desert surface from erosion. Excavating has been limited to a minimum and at the end of construction any damaged areas will be restored using original material set aside and retained for this purpose. The villas are built using local stone and pigments, with landscaping incorporating cacti and indigenous desert plants. The beddings for the walkways are made of local materials, as are most of the aggregates used for concrete. Construction is being executed principally by local craftsmen and many of the furnishing and decor elements are being sourced from a partnership with local community artisans, thereby supporting the local economy and minimizing pollution and the carbon footprint of associated transportation.
Landscaping has been designed to reduce surface water runoff and to promote water retention and soil penetration.
The hotel was built with regional, sustainable and low emitting building materials. The wood that was used for the doors was made out of driftwood that was dried in special techniques and assembled to customize entrance doors.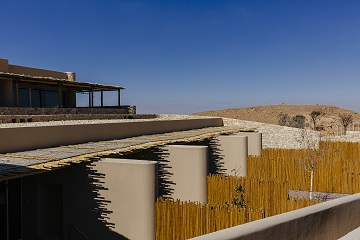 The interior lighting system is based on circadian rhythms using sensors and energy efficient lighting devices. The exterior lighting has been designed to control light pollution and to preserve the pristine clarity of the night sky. Along with the use of Optimized Lighting Energy performance, all units are equipped with high efficiency HVAC systems, ENERGYSTAR labeled electronic device and WATERSENSE labeled plumbing fixtures for water saving methods. Another water saving technique that is used for agricultural use is wastewater treatment- a biological process that is used to remove contaminants and produce treated wastewater that is safe enough to release into the environment.
All systems in the hotel are controlled and calibrated with BMS to perform according to initial design and to minimize excessive energy use. The hotel uses passive climatization methods as well, all units and public spaces are designed with wide openings to achieve controlled daylight illuminance and ventilation.
In order to encourage guests to use low emitting mass transportation, the hotel provides minimum parking spaces and preferred electric car park. Inside the hotel premises, guests move around the site along walking paths or rent a bike to ride in the reservoir outside the hotel.
The hotel also purchased GREEN POWER REC's, which allows projects to finance renewable energy production from certified Green-e company.
Project Earth Lab
Hotel Shaharut also promotes Project Earth Lab. Earth Lab is a place where Six Senses showcases their sustainability efforts to reduce consumption, produce locally, and support communities and ecosystems. Guests are invited to visit Earth Lab to reconnect with the natural world and learn some simple life-hacks that will allow them to make a difference.
Earth Lab topics and activities include:
• Water bottled on site eliminating the transportation impacts and use of plastic water bottles
• Alternatives to plastic straws including paper, bamboo, and lemongrass
• Natural insecticides distilled from plants and used as an organic alternative to chemical sprays
• Biologically active cleaning solutions are grown in batches and used to replace chemical cleaners
• Free range chickens produce organic eggs
• Goats process landscaping waste and produce milk
• Food waste is composted and used to fuel our extensive organic gardens
• Fruits and vegetables harvested from organic gardens provide fresh and healthy meals for guests
• Bees kept for honey and to pollinate local crops
• Glass (where recycling is not available) is crushed and upcycled into flower pots, paving stones and light fixtures
• Renewable energy is produced from solar and biomass
• Plants are harvested and oils freshly extracted for spa treatments
• Seeds are harvested, kept in a seed bank and made available for guests to take and grow organic at home
• DIY videos are produced and shared online; guests can join workshops
• Local community members are invited to learn and share traditional knowledge
The hotel was certified according to the Israeli Green Standard achieving 2 stars (high level of achievement) and the interior design of the hotel is currently perusing the certified for LEED CI hospitality – V3.
For more information on Green Buildings contact our local Associates or check out more on our service pages. 
Inogen Alliance is a global network made up of dozens of independent local businesses and over 5,000 consultants around the world who can help make your project a success. Our Associates collaborate closely to serve multinational corporations, government agencies, and nonprofit organizations, and we share knowledge and industry experience to provide the highest quality service to our clients. If you want to learn more about how you can work with Inogen Alliance, you can explore our Associates or Contact Us. Watch for more News & Blog updates here and follow us on LinkedIn.