Environmental Sustainable Development (ESD) - Israel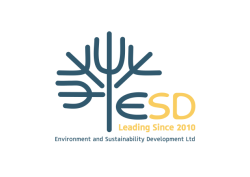 ESD provides consultancy, management, planning and entrepreneur in environment, sustainability and green building. The company employs 40 professionals from various disciplines in environment, architecture, acoustic, air quality, EHS and economics.
Key activities:
- Green building consulting
- Environmental planning & management
- Waste management
- Environmental impact assessments
- Urban & regional planning
- Infrastructure & transportation
- Strategic sustainable planning
ESD has over 15 years of experience and has been involved in more than 400 projects. Clients include municipalities, governmental offices, public companies, and entrepreneurs.
Environmental Sustainable Development (ESD) - Israel Offices
Giborei Israel 10; Zip Code: 4250410; POBox: 8800
Giborei Israel 10; Zip Code: 4250410; POBox: 8800