EHS Industry Outlook 2020
Kate Asleson
November 12, 2020

We recently had our bi-annual Inogen Alliance Associate meeting and wanted to share a few key takeaways and industry insights. We usually travel to an Associate's location to gather our worldwide consultants to meet in person, but with COVID-19 and a third wave of infections, we met virtually over three days. Trying to accommodate Associate's time zones is difficult, so some of our dedicated partners ended up dialing in very early in the morning or late into the night to hear our presentations and participate in the meetings. It is this dedication, hard work ethic and drive to learn new ideas and techniques globally that help differentiate our associates. Despite COVID-19 and virtual ways of working, our independent associate companies have shown incredible resiliency and are as busy as ever helping clients navigate these unusual and challenging times.
Several themes came out of our meetings that are tied to the pandemic and business resiliency. Our business areas of Environment, Health and Safety, and Sustainability have become business critical during COVID-19 in an entirely new way.
ESG and Sustainability Focus with the Pandemic
The pandemic has obviously changed our world in many ways; how we work, our education systems, how we do business, client and customer expectations, and even to the core of really examining our own values. The examination of our values has brought environment and sustainability issues to the forefront. People want to understand how businesses they support are aligning to their own environmental values, and they are more often leaving businesses that don't align with these values. According to a recent article in Forbes, 91% of shoppers worldwide will likely switch to brands that support a social or environmental cause. Investors are doing the same- ESG (environmental, social and governance) is not just a trending phrase, it is becoming engrained within a lens of how businesses survive and thrive and how investors are looking at their portfolios. It is not just an extra add-on in the due diligence mergers and acquisitions process it is becoming table stakes.
We heard from Liz Trew of Environment Analyst who reports on the Environment and Sustainability consulting industries. She spoke of the different waves we've gone through in this industry, beginning with a focus on clean-up of spills or environmental hazards in the 80's to 90's, shifting to a focus on compliance and permitting in the early 2000's, to sustainability more recently. We have now moved into a fourth wave with digitalization and prioritization on positive environmental impacts with focus on initiatives such as net-zero carbon emissions and ESG. Companies are wanting to position themselves as doing good with many bringing this to the forefront during COVID-19.
Environment and Sustainability Management & Services Evolution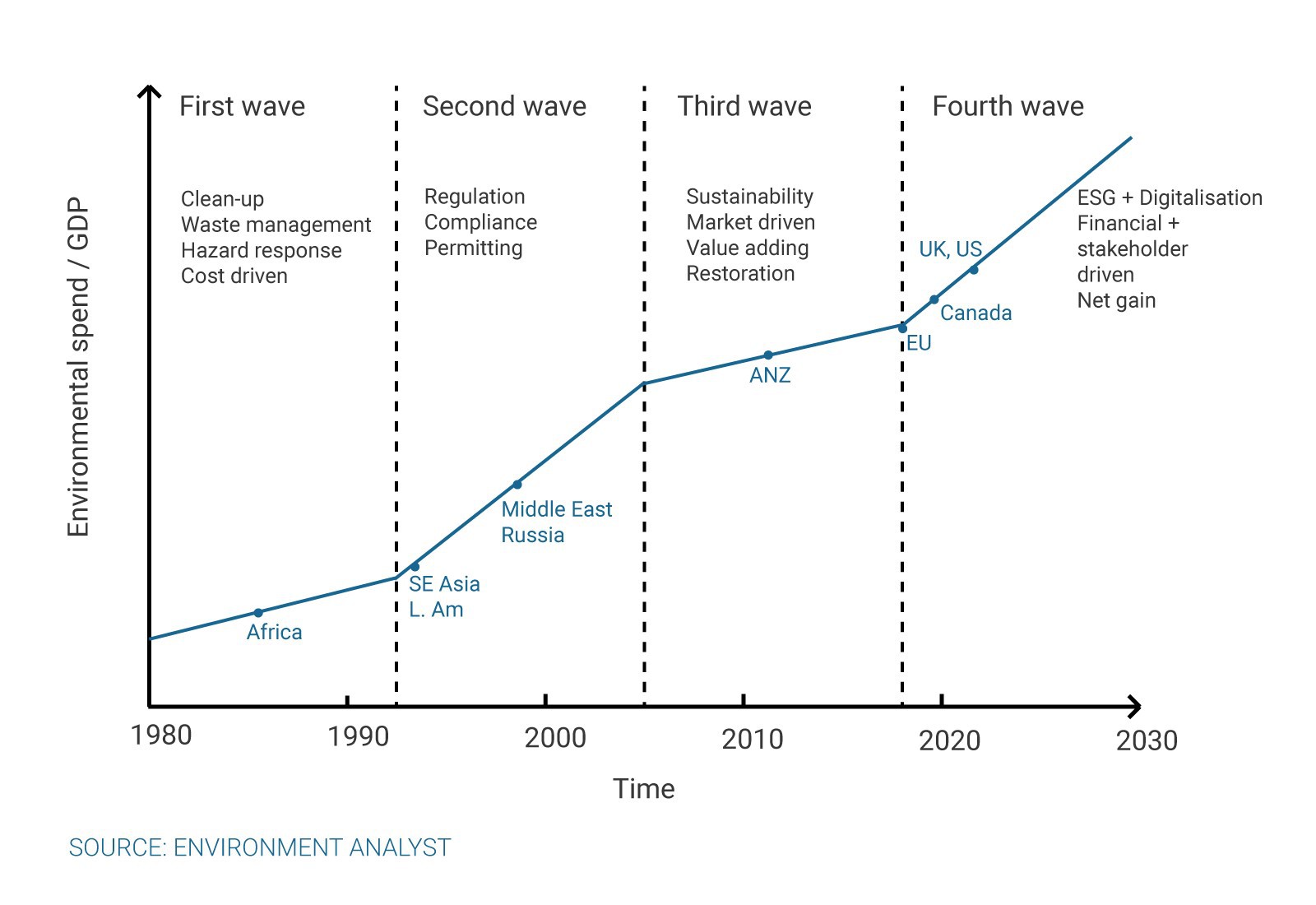 "We have an obligation and key role in this to keep momentum going and lead the transition to a carbon-free world. We have a stake in this" Liz Trew, speaking to our industry and our associates. It's a definitive call to action and is more urgent than ever with climate change and the environmental issues we're seeing today.
Within Inogen Alliance it's part of our DNA to share knowledge, learnings, new technologies and push ourselves to be the best global service provider of EHS and sustainability consulting. We are here for our clients and with our expertise and focus on these exact issues we are here to help make progress on these issues. With today's climate of not being able to travel freely, our Alliance offers huge benefits of having a local presence in over 280 locations worldwide.
Health and Safety in a New World
Along with a focus on Environmental and Sustainability topics, with the global pandemic crisis there is a new spotlight on Health & Safety and business resiliency. EHS managers and directors have a much more visible and business critical position in their companies. They are essential to how companies manage through this crisis and continue to operate and navigate all of these changes. We had two guest client speakers address how they are leading their companies through the pandemic, with locations around the world. In many cases Inogen Alliance associates are the eyes and ears on the ground in these global locations for the client, as they can't travel or get to many locations now. Having a local connection and presence on the ground is more critical than ever.
Collaboration in EHS
It's become even more important now to stay connected and work together towards these global goals of ESG, Sustainability, climate change, environmental impacts and health & safety. There are many ways to do this, and likely new collaborations and partnerships that will come to light. We see things like the 17 Sustainable Goals at the UN, as well as industry groups and consortiums including EHSxTech, EHSxRetail, BIER and HPRC all founded and led out of our associate Antea Group. Check out a comprehensive look at some interesting collaborations and associations here including focus on the circular economy and global transition to net-zero. At Inogen Alliance one of the ways we are driving industry knowledge and expertise and sharing is by creating industry working groups that collaborate internationally across all our 280 locations. We have six groups focused on specific services within EHS and five industry working groups. This allows us to bring the very best innovation, technology and service to our multinational clients.
What's Next?
Along with new ways of working and collaborating comes digitalization especially with how many individuals and businesses are operating today and setting new habits and expectations for years to come. We continue to introduce innovative services and technologies into our offerings including virtual audits with google glass, drone usage in site visits, and virtual helpdesks. We at Inogen Alliance are also focused on how we continue to evolve in client engagement and how we provide online learnings and share our expertise to help drive the move to a sustainable future. Check out our LinkedIn page for more insights from our recent Fall Associate event and for ongoing industry articles and project highlights. If you want to learn more check out our Associate pages or contact us and continue to watch here for more news & blog updates.