How Your Business Can Achieve Climate Neutrality
September 20, 2022

If we're going to stop global temperatures from rising above the maximum safe level of 1.5 degrees Celsius as a result of climate change, the UN reports that we must collectively achieve climate neutrality by 2050.
Your business can help. Here's what you need to know to get started right now:
What Is Climate Neutrality?
Climate neutrality is the concept of achieving net zero greenhouse gas emissions by balancing the emissions human sources release into the Earth's atmosphere with the amount the planet naturally absorbs in emission "sinks," like forests and oceans, via a process called sequestration.
Achieving climate neutrality is necessary to prevent the worsening impacts of climate change and it has become a crucial goal for the global community.
"Climate neutrality must be accompanied by climate adaption and biodiversity strategies. It is the most challenging and important task for enterprises under the broader goal of sustainability. The path every company should take includes measuring the emissions, reducing them and as a last step offsetting the non-reducible emissions," Senior Consultant Johannes Tinter of Associate denkstatt explains.
What is the difference between climate neutrality and carbon neutrality?
Carbon neutrality refers specifically to balancing out carbon dioxide emissions with natural carbon sequestration, whereas climate neutrality refers to balancing out all greenhouse gas emissions that contribute to climate change, including carbon, but also other greenhouse gasses such as methane and nitrous oxide.
The United Nations' Paris Agreement charts the international community's plan for limiting the impact of climate change. Its goal is to be climate neutral—not just carbon neutral—by 2050.
For more on terminology denkstatt explains climate neutral, carbon neutral, GHG neutral and net zero in this two page download and article.
How to Work Toward Climate Neutrality Right Now
A strong climate neutrality position helps substantiate and communicate your company's efforts in the battle against climate change. There are three steps that virtually any company, big or small, can take to start contributing to climate neutrality right now:
Step 1: Measure your emissions
Step 2: Set Science Based Targets
Step 3: Reduce your direct emissions
Step 4: Offset residual emissions through verified programs
Step 5: Report progress through recognised reporting frameworks
Step 1: Measure your emissions
There are multiple calculators and other EPA-approved resources available online to help businesses calculate both their carbon and greenhouse gas emissions.
Measuring your greenhouse gas emissions will give you an idea of how much work you have in front of you on the journey to climate neutrality, so you can start developing a roadmap to get there.
Step 2: Set Science-based Targets
Science-Based Targets, or goals, are goals for carbon neutrality that are in line with what the latest climate science deems necessary to meet the goals of the Paris agreement and limit global warming to well-below 2°C above pre-industrial levels.
Setting science-based targets is the only way to truly contribute to worldwide sustainability initiatives responsibly. They are also particularly critical right now because nations themselves are not doing enough to combat climate change, and so the private sector needs to lead the way instead.
IMPORTANT NOTE: The latest climate science demonstrates that carbon offset programs (discussed in step 4) cannot offset carbon emissions quickly enough to make the difference we need to make by 2050 alone.
Instead, carbon offsetting programs must only be a small part of a larger decarbonization strategy that should focus on reducing direct emissions first. The Science-Based Target Emissions states that companies cannot claim to be net-zero without first reducing long-term emissions by 90 to 95%. Therefore, reducing direct emissions should be every organization's top priority.
The official Science Based Targets Initiative platform includes a step-by-step process for how organizations like yours can develop and commit to their own science-based targets now.
Step 3: Reduce your direct emissions
The UN Climate Change secretariat provides in-depth instructions and resources on how to create a reduction plan to take measurable, achievable steps toward reaching defined emission reduction goals.
Implement as many of secretariat's tips as are feasible and calculate the impact they will have on your overall emission output, with a goal of net-zero emissions by 2050: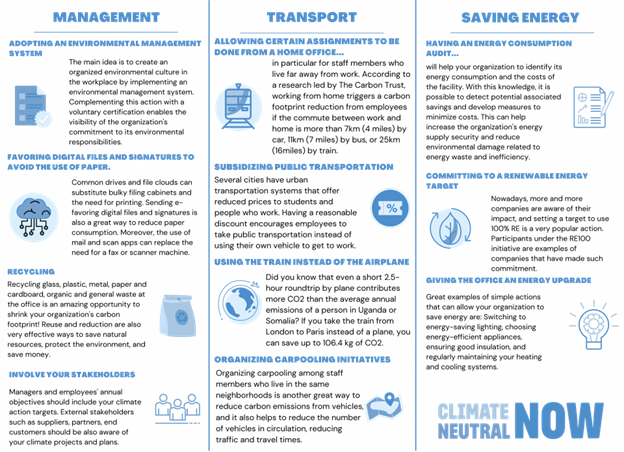 Step 4: Offset residual emissions through verified programs
The UNFCCC keeps a list of officially-endorsed Clean Development Mechanism projects dedicated to offsetting greenhouse gas emissions by replacing the use of fossil fuels with renewable energy, reducing energy consumption and use of fossil fuels by investing in energy efficiency measures, and capturing released carbon by cultivating or expanding additional natural  sequestration sinks.
As you contribute to these projects, the UN will award you a UN Certified Emission Reduction (CER) for each metric tonne of greenhouse gas emissions your contribution helped offset. By visiting the Climate Neutral Now offset platform, you can request CER accreditation for your business.
Reduce your business' greenhouse gas emissions to the greatest extent possible, calculate how much you're still producing, and then contribute to Clean Development Mechanism projects until you have offset as much or more emissions as you produce. Apply for accreditation from the UN, and you can officially show the world your business is climate neutral. There are pros and cons of carbon offsets, and they should be used as a last step only when reducing emissions is unachievable in the short term.
Remember these three elements when looking at procuring carbon offsets for your company, according to Carbon Service Leader Charlie Quann from our Associate Antea Group USA:
Carbon offsets should be a small part of a larger and more robust decarbonization strategy. Real reductions are necessary, and there are a host of solutions commercially available today which can reduce a company's GHG emissions (energy efficiency, heat pumps, renewable electricity, renewable fuels, refrigerant switching, SF6 replacement, etc.)
 
Carbon offsets are best employed when there are no technological or economically feasible alternatives (aligning with SBTi recommendations). This means that you can't just use carbon offsets when it is "hard", you have to use them when you have no other options.
 
Carbon offsets should be of high quality: removals not avoidances; have co-benefits that support the communities they exist in; pass the tests of additionality and other metrics; reserve some volumes to address when a project doesn't perform to specification (leakage); and a variety of other criteria that ensure a robust offset that is actually benefiting the world through investment in nature-based solutions.
Step 5: Measure and report progress through recognised reporting frameworks
Tracking and reporting the progress your company makes toward your science-based goal is not only beneficial for you; it's crucial for the worldwide project toward carbon neutrality by 2050.
There are a number of official resources available to both track and report on your progress, including the UK-mandatory Streamlined Energy and Carbon Reporting (SECR) system, the non-profit Carbon Disclosure Project (CDP),
Inogen Alliance experts are also available to serve as your organization's single point of contact for global program implementations. We can help you calculate your emissions, set Science Based Targets, develop a plan to hit those targets, follow through on that plan, measure progress, and report to the right authorities.
Why Should My Business Pursue Climate Neutrality?
Pursuing climate neutrality isn't just the right thing to do for the world—it's also the right thing to do for your business. Here are a couple major reasons:
It matters to consumers
A recent study by Sensormatic Solutions found that 81% of consumer respondents said they were "concerned or very concerned" about sustainability and the environment's future. It also found:
Nearly 80% of consumers consider sustainability when making at least some of their regular purchases.
Almost 80% of retailers who have adopted sustainability practices have noticed increased customer loyalty.
54% of consumers will seek out a brand's sustainability initiatives when considering a purchase—and this number is likely far higher for larger B2B transactions.
50% of consumers believe businesses bear a responsibility to the consumer to operate sustainably.
70% of consumers said they would change their shopping habits if they discovered a store or brand wasn't operating sustainably.
Another study found that 66% of global respondents are willing to pay more for products and services from a company with a positive social and environmental impact.
It matters to the workforce
In August 2020, Reuters and Censuswide surveyed over 2000 UK office workers to ask them what they thought about their workplace's responsibility to address climate change:
72% of multigenerational respondents said they were concerned or very concerned about environmental ethics.
83% said their workplaces were not doing enough to address climate change.
65% said they would prefer to work at a company with strong environmental policies.
63% expressed a desire to learn more green skills.
Climate change and social responsibility are particularly important to the young, emerging workforce. According to the 2016 Cone Communications Millennial Employee Engagement Study:
64% of millennials consider a company's social and environmental commitments when deciding where to work.
64% won't take a job if a company doesn't have strong corporate social responsibility values.
83% would be more loyal to a company that helps them contribute to social and environmental issues.
88% say their job is more fulfilling when they are provided opportunities to make a positive impact on social and environmental issues.
It matters to stakeholders
According to Cambridge Associates' July 2021 publication "Investing for a Net-Zero World: A Guide for Investors," investors are not only interested in pursuing climate change-related agendas in order to better align with their stakeholders' beliefs and values, but also because they see investing in climate responsibility as a good investment.
If you want to learn more about how you can join the fight against climate change and take the next step forward, check out our campaign on "The Road to a Sustainable Future."
Inogen Alliance is a global network made up of dozens of independent local businesses and over 5,000 consultants around the world who can help make your project a success. Our Associates collaborate closely to serve multinational corporations, government agencies, and nonprofit organizations, and we share knowledge and industry experience to provide the highest quality service to our clients. If you want to learn more about how you can work with Inogen Alliance, you can explore our Associates or Contact Us. Watch for more News & Blog updates here and follow us on LinkedIn.