HPC and Delta-Simons Employee Work Exchange Experience
January 6, 2023

As a global Alliance with 75+ independent local companies this gives our Associate teams access to diverse knowledge sharing and learnings from peers around the world with not only technical skills but also cultural awareness and learning in a global environment.
Sonja Hilpert, a consultant based at HPC's Frankfurt (Kriftel) office, recently took part in a two week exchange programme, working from the Delta-Simons Norwich office within the Environmental Transaction Services (ETS) team. We asked Sonja to share a little more about her experience over in the UK, how it differs from Germany and what working life is like in Frankfurt.
How did the exchange program come about?
HPC and Delta-Simons are both founding members of the Inogen Alliance, a worldwide network of environmental, health, safety and sustainability consulting firms. This has resulted in a robust and rewarding partnership between the two companies. Following an internal exchange within Germany to another branch of HPC, I was offered an external exchange abroad, which I gladly accepted.
What does your role involve at HPC?
I organise and conduct Phase I and II Environmental Due Diligence Assessments. A Phase I includes desk-based research, site visits, reporting and communication with the clients. Clients typically comprise global logistic companies as well as a wide range of industries looking to invest in real estate. Phase II is the next step in the acquisition process and involves soil, groundwater and soil gas investigations. The investigations are designed based on the findings of the Phase I, and are often required to evaluate the environmental risks associated with an investment.
I'm also part of the hydrogeological consulting team of HPC Kriftel, where I conduct risk assessments associated with water resources, mainly for global bottling companies. This involves developing an understanding the entire water cycle, including water abstraction, transportation and treatment processes for raw water and wastewater. An important part of this is the evaluation of appropriate mitigation measures and water saving opportunities to ensure efficient and sustainable utilisation of water. We also assess environmental hazards associated with the usage and storage of hazardous substances at the subject site and within the catchment area.
I work on issues that have an environmental background every day. It has always been my desire to give something back to nature by protecting the environment and advancing sustainable water use. This inspired me to study hydrogeology and I'm happy that I am able to work on issues I am passionate about on a day-to-day basis.
What's working life like at HPC in Frankfurt?
Working life in Frankfurt is very varied as I work in two different areas and my tasks tend to involve travelling. I am constantly learning as the variety of projects I work on mean I am frequently being pushed out of my comfort zone and developing new skills. Everyday life is characterised by flexibility and a great team of colleagues; we can work from home or in the office and have a friendly and supportive work environment.
What was it like working from our Norwich office for two weeks?
I thoroughly enjoyed working with the Delta-Simons team in the Norwich office. It gave me insight into their day-to-day work, and I was able to learn about the different procedures and experience their working culture. The working day was well structured, and the tasks were clearly distributed, which made me feel part of the team right from the start. I very much appreciated the direct communication.
The colleagues in Norwich were all very friendly and welcoming, and the atmosphere at work was relaxed, so I felt comfortable asking questions and following up when things were unclear.
I was also able to participate in an afterwork social event on Friday evening, which was a great opportunity to get to know each other better on a personal level and to talk about non-work topics.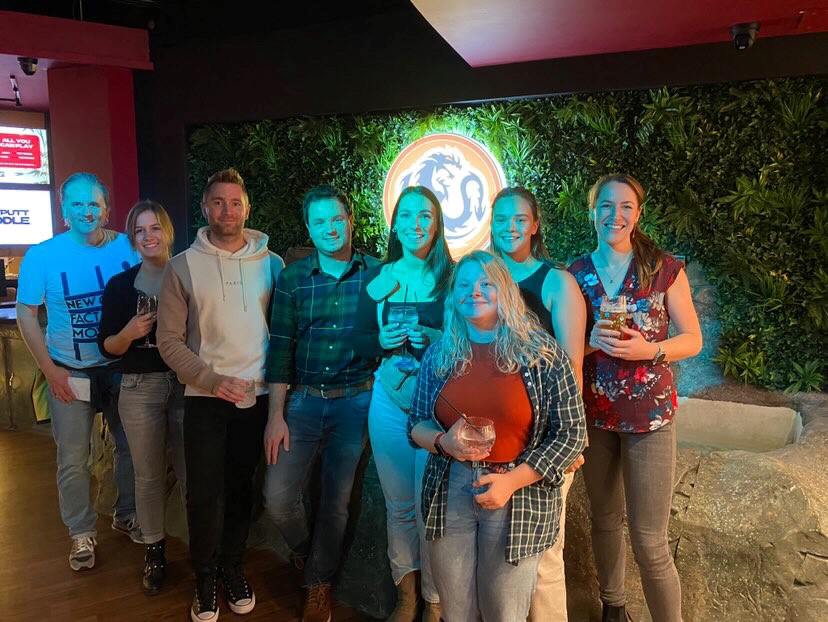 What were you working on while you were here?
I spent my time in Norwich working on Environmental Due Diligence Assessments, including research and reporting. After training by the team on how to use different data sources, I started writing the reports. I know the basics of such assessments as I do the same kind of assessment in Germany. However, during my time in Norwich I was able to learn how the focus of the assessment differs between countries. The difference in the available data sources between Germany and the UK impressed me!
What did you find most interesting and/or useful about your time spent in the UK and working for Delta-Simons?
Working in Norwich was a great experience to develop in my working life and working partnerships, and for my own personal development. I had the opportunity to work in a foreign country - that means a foreign language, a foreign environment with (almost) foreign people. It was a step out of my comfort zone, but it was definitely worth the effort. Organising the stay, getting to know people in the Norwich office and integrating into a new team was thoroughly rewarding. I'm glad to have had this experience, and it has made a positive impression on me and strengthened the partnership between HPC and Delta-Simons.
Lucion Group Managing Director and Inogen Alliance Board member Alex Ferguson discussed the success of the exchange visit:
"There is a real desire from the Inogen Leadership to extend this programme as a way to provide learning and professional development experiences for our early career professionals, to build the skills base across the Alliance and to strengthen our relationships. 
Inogen Alliance is a global network made up of dozens of independent local businesses and over 5,000 consultants around the world who can help make your project a success. Our Associates collaborate closely to serve multinational corporations, government agencies, and nonprofit organizations, and we share knowledge and industry experience to provide the highest quality service to our clients. If you want to learn more about how you can work with Inogen Alliance, you can explore our Associates or Contact Us. Watch for more News & Blog updates here and follow us on LinkedIn.