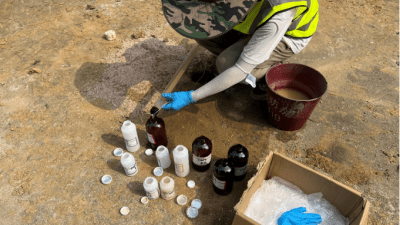 Remediation Project in Qingdao, China
Challenge
The objective of the project was to minimize risk within the defined scope, without specific objectives regarding the final concentration of TCE. This objective was agreed upon by the client.
During the project, the team faced challenges due to the strict lockdown measures imposed in China as a result of the COVID-19 pandemic. Despite these obstacles, the team successfully navigated through the restrictions and continued their work.
Another challenge encountered was heavy rainfall during the injection of the reducing agent, leading to a significant rise of 4 meters in the groundwater level. However, the team effectively addressed this issue by implementing appropriate measures to mitigate potential negative impacts.
It should be noted that this project presented a unique challenge for Antea Group France, as it was their first large-scale project in China. The project was successfully implemented through the cooperation between Antea Group France and Anew Global Consulting as the local consultant through Inogen Alliance, having familiarity with the local environment and regulations and ability to be on-site during strict lock-down restrictions with the global pandemic.
Inogen Solution
Multi-phase Extraction (MEP) and In-situ Chemical Reduction (ISCR) techniques were implemented on-site as part of the comprehensive remediation strategy and four rounds of groundwater monitoring evaluations (GMEs) were completed within a condensed four-month timeline.
Client Benefits
Minimized potential legal penalties and reputational damage associated with non-compliance.
Protected the well-being of employees, nearby communities, and other stakeholders.
Reduced potential liabilities and made the property more attractive for future use, redevelopment, or sale.
Enhanced the client's reputation as an environmentally conscious organization, fostering positive relationships with stakeholders, including customers, employees, investors, and regulatory authorities.
 
"The project took place during the global pandemic and neither the client nor the primary contractor could be onsite at all.  We completely trusted Anew to execute the project and Anew kept us appraised of the project progress."